NEW

Perspex® Naturals is a new cast acrylic range from Perspex®, inspired by the simple beauty of nature, designed for retail and interior design applications.

Simulating the earthy tones and velvety texture of natural stone, Perspex® Naturals offers a double-sided matt texture, meeting the desire for simple natural looking materials that perform to high standards in demanding environments.

It is the perfect material to bring clean simple lines and a natural look to any application. Perspex® Naturals is available in a collection of six colours, offering a choice of pale, mid and deep tones to create harmonising colour combinations which complement other design materials such as wood, metal and textiles. Whether the aim is to create classic or contemporary design, Perspex® Naturals will work.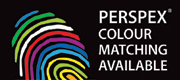 Key Features
Textured surface finish with the aesthetic appeal of stone
Strong, durable and hard wearing
Easy to shape and style
Retains matt surface texture after thermoforming
Carries the Perspex® 10 year guarantee
100% recyclable

Custom colour matching service available



Typical Applications